Through the official Twitter Support account @ TwitterSupport, an unexpected announcement was made for users. This announcement corresponds to the way in which the tweets in the timeline can be displayed.
Since 2016, Twitter made changes to its algorithm, and the tweets stopped being viewed chronologically to start showing in order of relevance. This caused positive and negative reactions in the users of this social network. Until this moment, they continued to show themselves that way.
However, the official Twitter announcement indicates that they are working on new ways to give the user more control in their timeline in response to the feedback they have received from them, where many agree to display relevant information first, but others insist in preferring to see the recent tweets first.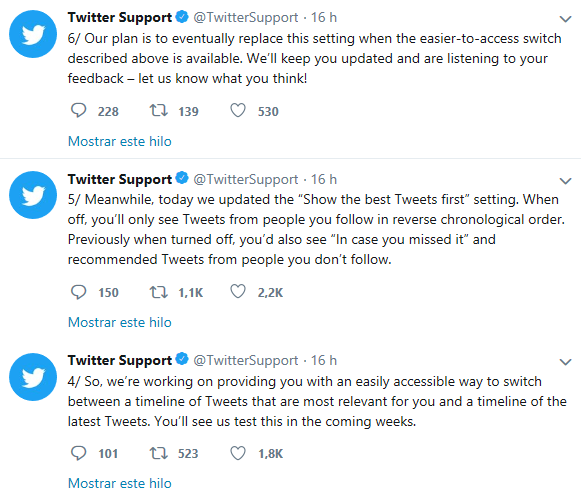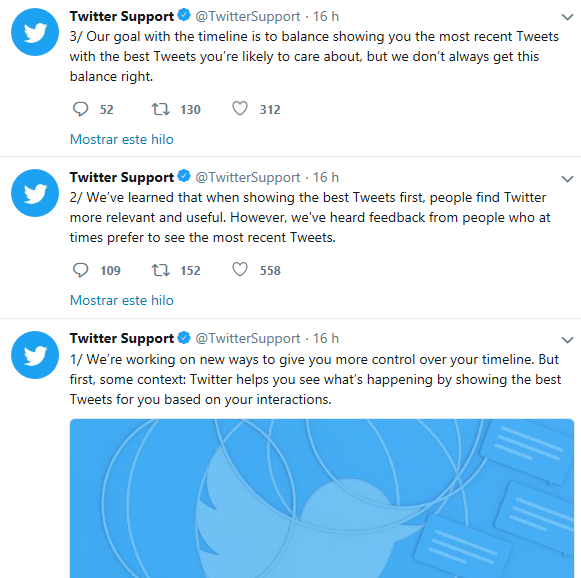 According to Twitter, his goal is to achieve a balance between both points of view, so they have decided to leave the control to each user so that he himself decides what he wants to visualize when he enters Twitter.
For this, they have created a simple way to change to any of the two formats, depending on the tastes and requirements of each particular user, at each specific time. These actions will be tested in the coming weeks.
For the moment, they updated the "Show the best tweets first" section where you can view recommended tweets from people you do not follow, with the option to make the change to show the tweets of the people you already follow, in chronological order.
The goal of Twitter is to continue making information easy and simple through its platform.
This can mean a benefit for companies and for brands, by recovering a space that they might have lost among their potential clients, giving brands the opportunity to have more exposure to them.
Source: Twitter.